who says Singapore beaches are ugly?
so while the majority of the singaporean population triapsed around the island trading (at times) mouldy citrus fruits and collectively bemoaning the torturous activity that is visiting relatives you hardly know AND don't quite wish to know, I spent the monday "camping" at east coast.
I've said this to people many times, but only because it's true: on holidays where malays are generally excluded (i.e. christmas and CNY), the beach becomes this happy refugee camp! half the malay population comes to congregate along the shoreline with their respective families and if people say that the kampong days are gone - well, they're mistaken. all that's missing is a couple of running chickens and the fact that instead of attap houses, you have nylon tents that sprout suddenly like garish mushrooms. it's our malay blood answering the call of our orang laut roots!
anyhow, it was quite nice i suppose despite having to constantly worry about rain since the sky was dangerously grey and dim. food was good - think i undercooked prawns though, had a stomachache the next morning.
but yes, back to beach scenery!
what might the retreating wave reveal?
a washed-up cottony bra, of course!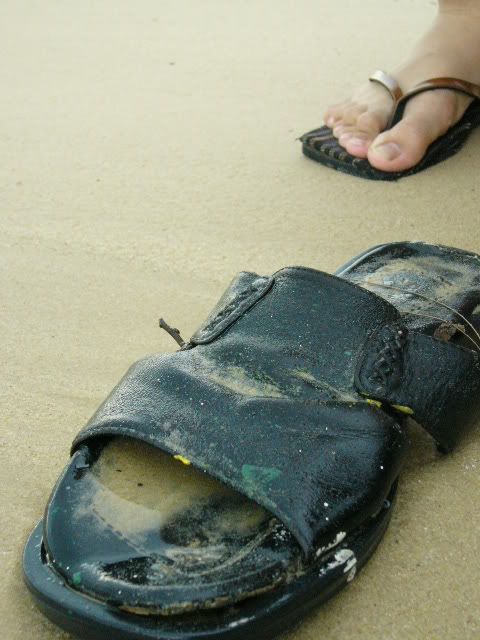 or a rubber sandal.
but seriously though, as gross as the bra is, the beach does have some merits depending what kind of perspective you decide to take. sure, it's not brilliantly pretty, but what it lacks in sparkling marine wildlife, it makes up for..interesting litter. i say this with no sarcasm.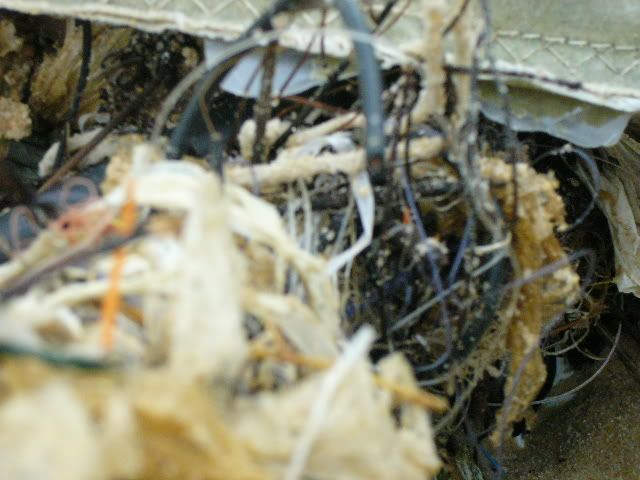 a massive entanglement of junk.
from the perspective of an art student, it's brilliant texture - wish i had got a sharper shot, but was pre-occupied with not getting camera wet, so!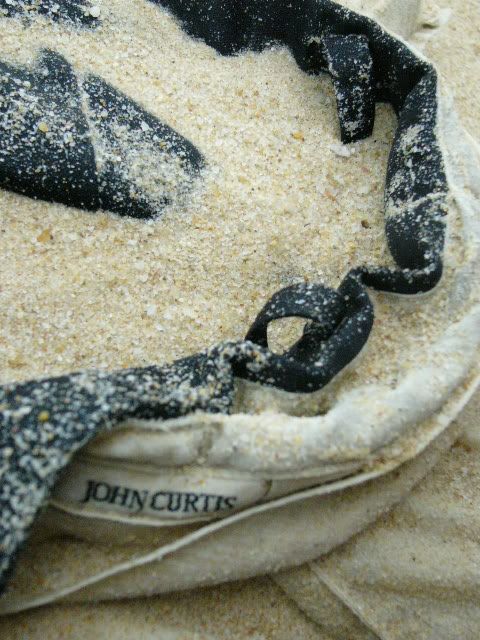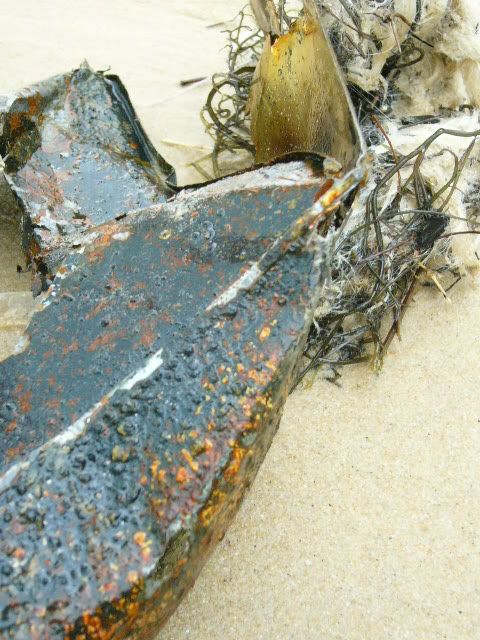 I get annoyed by people sometimes who say with vehemence that Singapore is ugly. evidently, i disagree - there's a lot of beauty around here, you just need to be more open to the other definitions that it can take. not everything has to be sprawling pastoral lands or neo-classical architecture (hah i don't even know what neo-classical means!); our old and slightly mouldy hdb estates are beautiful in their own dank way, just like how the vines growing over construction boardings are beautiful as well.
like how there are actually TREES (ok, saplings) growing in the underground drains of matthew's hdb estate and that they peep through the metal gratings, or that the dandelions and small weeds growing by janice's estate cheer me up a lot more than the trimmed lawns of her neighbours. today while waiting for her, i was plucking the dandelions to uh, blow when i noticed a yellow stain on my fingers. turned out to be (i think) aphids! so queer - but they were brilliantly yellow with black spots.
there is beauty.